Faculty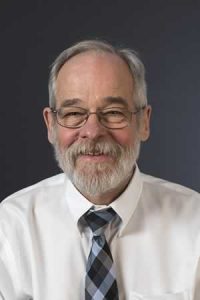 Dr. Robert Kacmarek, PhD, RRT, FCCM, FCCP, FAARC
Webcast Replay
Originally Recorded Thursday, March 5, 2020
9 a.m. – 10 a.m. PDT
12 p.m. – 1 p.m. EDT
Register
No fee is associated with this activity.
Each participant wishing to obtain CRCE credit must preregister individually, even when viewing with a group. In addition, please obtain group viewing instructions, roster and evaluation forms by contacting Salomay_corbaley@nihonkohden.com
Learning Objectives
Upon completion of this Webinar the attendee will be able to:
Discuss the effect of obesity on ventilatory function.
Discuss the concept of transpulmonary pressure and how it is used to set PEEP.
Discuss ventilator setting in general in the obese patient and the use of Lung recruitment maneuver and high PEEP to stabilize the lung of the acutely ill obese patient.
Webcast Summary
Today, obesity is considered epidemic. In the adult, obesity is defined as greater than a body mass index (BMI) of 30 kg/m2. The United States is one of the most affected countries by this epidemic. In the US 40% of adults are considered obese, 20% of adolescents and 14% of children. Obesity has some very negative effects on the individual; diabetes, heart disease and various metabolic issues are caused by obesity. In references to this presentation obesity can have a profound effect of ventilatory function. Because of the increased mass on the chest wall atelectasis and premature airway closure are common. Normally, the lung is maintained open as a result, of a positive end expiratory transpulmonary pressure (alveolar pressure minus pleural pressure). In obesity pleural pressure is increased sometime as high a positive 20 cmH2O as a result, at end expiration the transpulmonary pressure is negative causing alveolar collapse. In obese patients in hypoxemic respiratory failure very high PEEP levels are required to stabilize the lung and avoid collapse, sometimes exceeding 25 cmH2O. It should also be remembered the obese lung is no larger than the normal sized lung. As a result, tidal volumes should be set at 4 to 8 ml/kg similar to someone of lean body mass. These and other topics will be discussed in detail during the Webinar.
References
Hales CM, Fryar CD, Carroll MD, Freedman DS, Ogden CL. Trends in obesity and severe obesity prevalence in US youth and adults by sex and age, 2007-2008 to 2015-2015. JAMA 2018; 319:1723-1725.
Di Angel Antonio E, Bhupathiraju SN, Womser D, Gao P, Kaptoge S, de Gonzalez AB, et al. Body-mass index and all-cause mortality: individual participant-data meta-analysis of 239 prospective studies in four continents. Lancet 2016; 388:776-785.
Soto GJ, Frank AJ, Christiani DC, Gong MN. Body mass index and acute kidney injury in the acute respiratory distress syndrome. Crit Care Med 2012; 40:2601-2608.
Behazin N, Jones SB, Cohen RI, Loring SH. Respiratory restriction and elevated pleural and esophageal pressures in morbid obesity. J Appl Physiol 2010; 108:212-218.
Pirrone M, Fisher D, Chipman D, Imber DAE, Corona J, Mietto C, et al. Recruitment maneuvers and positive end-expiratory pressure titration in morbidly obese ICU patients. Crit Care Med 2016; 44:300-307.
Fumagalli J, Berra L, Zhang C, Pirrone M, Santiago RRDS, Gomes S, et al. Transpulmonary pressure describes lung morphology during decremental positive end-expiratory pressure trials in obesity. Crit Care Med 2018; 45:1374-1382.
Fumagalli J, Santiago RRS, Teggia Droghi M, Shang C, Fintelmann FJ, Troschel FM, et al. Lung recruitment in obese patients with acute respiratory distress syndrome. Anesthesiology 2019; 130:791-803.
Boles J-M, Bionc J, et al. Conference de Consensus Internacionale. Weaning from mechanical ventilation. Statement of the Seventh International Consensus Conference on Intensive Care Medicine. Eur Respir J 2007; 29:1033-1056.
Beitler JR, Sarge T, Banner-Goodspeed VM, Gong MN, Cook D, Novack V, et al. Effect of titrating positive end-expiratory pressure (PEEP) with an esophageal pressure-guided strategy vs an empirical high PEEP-FI02 strategy on death and days free from mechanical ventilation among patients with acute respiratory distress syndrome. JAMA 2019; 321:848-857.
Florio G, Ferrari M, Bittner EA, De Santis Santiago R, Pirrone M, Fumagalli J, Droghi MT, Mietto C, Pinciroli R, Bert S, Bagchi A, Shelton K, Kuo A, Lai Y, Sonny A, Lai P, Hibbert K, Kwo J, Pino RM, Wiener-Kronish J, Amato MBP, Arora P, Kacmarek RM, Berra L.; for the investigators of the lung rescue team. A lung rescue team improves survival in obesity with acute respiratory distress syndrome. Critical Care 2020; 24;4:1-11.
Grassi L, Kacmarek RM, Berra L. Ventilatory mechanics in the patient with obesity. Anesthesiology 2020; xxx:00-00.
Watson RA, Pride NB. Postural changes in lung volumes and respiratory resistance in subjects with obesity. J Appl Physiol (1985) 2005; 09:512-417.
Jones RL, Nzekwu MM. The effects of body mass index on lung volumes Chest 2006; 130:827-833.
Shearer ES. Obesity anaesthesia: The dangers of being an apple. Br J Anaesth 2013; 110:172-174.
Balentine CJ, Robinson CN, Marshall CR, Wilks J, Buitrago W, Haderxhanaj K, Sansgiry S, Petersen NJ, Bansal V, Albo D, Berger DH. Waist circumference predicts increased complications in rectal cancer surgery, J Gastrointest Surg 2010; 14:1669-1679.
Rivas E, Arismendi E, Agusti A, Sanchez M, Delgado S, Gistau C, Wagner PD, Rodriguez-Roisin R. Ventilation/perfusion distribution abnormalities in morbidly obese subjects before and after bariatric surgery. Chest 2015; 147:1127-34.
Pelosi P, Croci M, Ravagnan I, Tredici S, Pedoto A, Lissoni A, Gattinoni L. The effects of body mass on lung volumes, respiratory mechanics, and gas exchanged during general anesthesia. Anesth Analg 1998; 87:654-660.
Behazin N, Jones SB, Cohen RI, Loring SH. Respiratory restriction and elevated pleural and esophageal pressures in morbid obesity. J Appl Physiol (1985) 2010; 108:212-218.
Loring SH, Behazin N, Novero A, Novack V, Jones SB, O'Donnell CR, Talmor DS. Respiratory mechanical effects of surgical pneumoperitoneum in humans. J Appl Physiol (1985) 2014; 117:1074-1079.
Yoshida T, Amato MBP, Grieco DL, Chen L, Lima CAS, Roldan R, Morais CCA, Gomes S, Costa ELV, Cardoso PFG, Charbonney E, Richard JM, Brochard L, Kavanagh BP. Esophageal manometry and regional transpulmonary pressure in lung injury. Am J Respir Crit Care Med 2018; 197:1018-1026.
Loring SH, O'Donnell CR, Behazin N, Malhotra A, Sarge T, Ritz R, Novack V, Talmor D. Esophageal pressures in acute lung injury: Do they represent artifact or useful information about transpulmonary pressure, chest wall mechanics, and lung stress? J Appl Physiol (1985) 2010; 108:515-522.