Faculty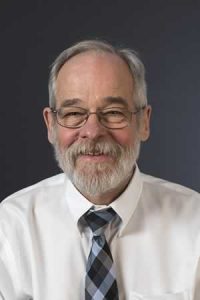 Dr. Robert Kacmarek, PhD, RRT, FCCM, FCCP, FAARC
Webcast Replay
Originally Recorded Thursday, June 18, 2020
9 a.m. – 10 a.m. PDT
12 p.m. – 1 p.m. EDT
Register
No fee is associated with this activity.
Each participant wishing to obtain CRCE credit must preregister individually, even when viewing with a group. In addition, please obtain group viewing instructions, roster and evaluation forms by contacting Salomay_corbaley@nihonkohden.com
Webcast Summary
Over the last 15 years, healthcare professionals have achieved a much better understanding of asynchrony and how it affects patient outcomes. Asynchrony can be best defined as a discordance temporal relationship between the mechanical ventilator and the patient's own breathing. That is, the mechanical ventilator and the patients are not functioning in a cooperative manner. The ability of a patient to easily interact with the mechanical ventilator is greatly dependent on the amount of control exerted by the ventilator. For example, in volume ventilation tidal volume, inspiratory time and flow are controlled. By contrast, with pressure support, only the pressure is controlled. Consequently, asynchrony is much more common in volume ventilation compared to pressure support. Specific asynchronies have been generally grouped into 4 categories: flow asynchrony, where the mechanical ventilator does not meet the patients inspiratory demand; triggering asynchrony, where there is a discordance relationship between the patient's initiation of inspiration and the response of the ventilator; cycle asynchrony where the termination of a breath by the ventilator does not correspond to the termination of the breath by the patient; and mode asynchrony, where the specific mode is simply not tolerated by the patient. These and other topics will be discussed in detail during the webcast.
Learning Objectives
Upon completion of this Webinar the attendee will be able to:
Discuss the effects of mode of ventilation on the likelihood of developing asynchronies.
Discuss the various categories of asynchronies and the circumstances under which they occur.
Discuss the impact of the various types of asynchronies on patient outcome.
Accreditation
This webcast is approved by the American Association for Respiratory Care (AARC) for one contact hour of CRCE credit.
References
Kacmarek RM, Patient-Ventilator Interactions: In Kacmarek RM, Stoller JK and Heuer AJ editors Egan's Fundamental of Respiratory Care ,12 edition, Elsevier Pub, St Louis, pages 1053-1071.
Kacmarek RM, Proportional Assist Ventilation and Neurally adjusted Ventilatory Support, Respiratory Care 63(4);464-478,2018
Blanch L, Villargra A, Sales B et al, Asynchronies during mechanical ventilation are associated with mortality. Intensive Care Medicine,41:633-641, 2015.
Thille AW, Rodriguez P, Cabello R, et. al, Patient-ventilator asynchrony during assised mechanical ventilation.
deWit M,Millar kr, Green DA et al. Ineffective triggering predicts increased increased duration of mechanical ventilation. Critical Care Medicine, 37:2740-2748,2009.
Vaporidi K, Babalis D, Chytas A et. Al. Clusters of ineffective efforts during mechanical ventilation are associated with increased mortality. Intensive Care Medicine, 43 (3):184-191,2017.
De la Oliva P, Schuffelmann C, Gomez_Zamora A, et al. Asynchrony, neural drive, ventilation variability and COMFORT: NAVA vs. pressure support in pediatric patients. Anon-randomized crossover trial. Intensive care Medicine,38:838-846,2012.
Marini JJ, Rodriguez RM, Lamb V. The inspiratory workload of patient -initiated mechanical ventilation. Am Rev Respir Dis, 145:114-120,1992.
Yoshida T, Nakahashi S, Aparecida M, et al. Volume-controlled ventilation does not prevent injurious inhalation during spontaneous breathing. AM J Respir Crit Care Med 196:590-601,2018.
Yoshida T, Uchiyama A, Matsuura N et al. The comparison of spontaneous breathing and paralysis in two different severities of experimental lung injury. Crit Care Med 41:536-545,2013.
Yoshida T, Engelbert D, Otulakowski G, et al Continuous negative abdominal pressure reduces ventilator induced lung injury in a porcine model. Anesthesiology 129:163-172, 2018.
Blanch L, Sales B, Montanya J et al. Validation of BetterCare system to detect ineffective efforts during exhalation in mechanically ventilated patients: a feasibility study. Intensive Care Medicine 38:772-780,2012.
Epstien SK. How offen does patient-ventilator asynchrony occur and what are the consequences. Respir Care 56:25-28, 2011.
Liao K-M, Ou C-Y, Chern C-W. Classifying different types of double triggering based on airway pressure and flow deflection in critically ill patients. Respir Care 56:460-466, 2011.
Tassaux D, Gainnier M, Battisti A et al. Impact of expiratory trigger setting delayed cycling and inspiratory muscle workload. Am J Respir Crit Care Med 172:1283-1289, 2005.
Parathasarathy S, Jubran A, Tobin MJ. Cycling of inspiratory and expiratory muscle groups with the ventilator in airflow limitation. Am J Respir Crit Care Med. 158:1471-1478, 1998.
Pepe PE, Marini JJ. Occult positive end expiratory pressure in mechanically ventilated patients with airflow obstruction; the auto-PEEP effect. Am Rev Respir Dis, 126;166-170, 1982.
Thille AW, Cabello B, Galia F et al, Reduction of Patient-Ventilator Asynchrony by reducing tidal voliume during pressure support ventilation. Intensive Care Medicine 34:1477-1486, 2008.
Fabry B, Guttmann J, Eberhard L. An analysis of desynchronization between the spontaneous breathing patient and ventilator during inspiratory pressure support. Chest 107:1387-1394, 1995.
Imsand C, Feihl F, Perret et al. Regulation of inspiratory neuromuscular output during synchronized intermittent mandatory ventilation. Anes 80:13-22, 1994.